If I shot this caliber competitively, I would buy a case of them, bring them with me and give them to my competitors.
I'm not sure what Remington was trying to accomplish with this round, but their QC, assuming it exists, leaves a lot to be desired and it ripples into their performance. As I already covered in the lead-up thread, their case tolerances seem to be at odds with the cartridge's own specifications. You can read about it in
this thread
.
I usually don't rush to judgement based upon one box of ammunition, from one lot, but first impressions are lasting impressions.
Before we get to the victuals, there's the water shot, like I've done with other bullets.
Like the Hornady 250 FTX,the 260 Accutip penetrated 5 jugs coming to rest in the 5th. The first two were obliterated. The third was split almost in two. The 4th had an aggravated entry and exit, but remained whole. The bullet almost made it out of the 5th, but couldn't quite break the skin. The Accutip being a
flying ashtray
of a jacketed hollowpoint with that odd, big plastic tip over the mouth, started out at 260gr, finished the journey at 163gr, or 63%.
The 250 Hornady FTX wound up going just as far, at a higher velocity, but weighed 198gr,or 79%.
Both were shot about 15 feet from the jugs. Both would have expanded at much lower velocities, given their over-performance at full speed. I did not have enough confidence in the accuracy of the Accutip to try a shot at water jugs at 100 yards.
Here's the ballictic results, containing three iterations of the Remington and a control group featuring the Hornady FTX loaded at pretty much the standard load of 38gr Lil Gun, to 2.28 COL with a .475 Taper Crimp: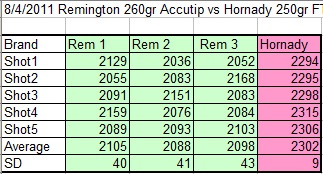 I sincerely believe the wider SD is the result of no mouth crimp of any kind and if you go on the varying mouth diameters covered in the lead-up thread, probably varying neck tension.
The diffuse groups reflect this as well:
The Hornady 250 FTX performed it's regular, reliable way in the lower right target. I'm not trying to sound like I went into this test with an "Anti-Remington" agenda. It actually has the distinction of being the first commercial ammunition my bushy has had the privilege to shoot. It just didn't live up to all the rabid anticipation heaped upon it earlier this year, in these forums. Perhaps it is optimized for the shorter 16" Bushy. Assuming the Hornady commercial ammunition shoots like my attempt to handload them equivalently, there is no choice to be made as to which I would use, regardless of whether I'm shooting bullseyes at 100 yards or that once in a lifetime hunt.
Respectfully submitted,
Hoot