The New Kid on the Block
Not to sound like the "Eyes of Age", but I've had the good fortune to have done just about everything I could think of with my 450b and a couple of different barrels to boot. So, when Bartz Manufacturing agreed to let me try their spin on the 450b theme, I figured why not? They assembled a 20" upper from random parts, shot three rounds down the barrel to avoid any embarrassing events and sent it my way for a test drive. Knowing it was on the way, I threw together my best workmanship of a cross section of loads based upon what bullets I have on hand at the moment. I didn't however do any of my Barnes XPB loads on this first go around. Bartt shipped it on Friday and it arrived on Monday, so I didn't have time to load up all my favorite recipes, but some offerings were. I decided to use the same 38gr charge of Lil Gun for all the bullets since that charge works well across a wide weight range. Keep it simple ya' know. Same old favorite Remington 7 ½ primers and 1-fired brass sorted into 5-round lots by length. IE 1.88-1.89, 1.90-1.91, 1.92-1.93, etc. I did that because for all but one of the loads, I knew I would be using the factory taper crimp. It's been discussed on the forum…
No doubt, the Bartz Manufacturing web page will have better component images soon, but in the meantime, I'll touch upon them. My Dad always bought the best of anything he got despite being a working stiff. "Better to hurt once since you generally get what you pay for." Despite the nice hydrographic camouflage receiver and smart charging handle, I was immediately drawn to the EXO Nickel Boron coated Slick Bolt BCA. Now that's doing it the right way! It looked like bare steel that had gotten a "melt-down" procedure and was slippery to handle. The bolt movement back and forth was still stiff as the gas rings had not lapped their way in yet, but if you took the NiB cam out, it spun like a roulette wheel. In a nutshell, the BCA oozes quality. No errant machining marks and not a single burr anywhere. If you're used to run of the mill Mil-Spec parts like I buy, this was a pleasant surprise. There was obvious attention to the small things.
Here are some images and I apologize for the lighting. I bought some of those LED bulbs and their spectrum is akin to the sunlight on the moon. No more over-Coppertoned looking pictures that my CFLs made, but I certainly need more experience with the exposure. Come to think of it, I seem to recall having the image color temperature setting in my camera set to incandescent. That probably accounts for the unspectacular color rendering.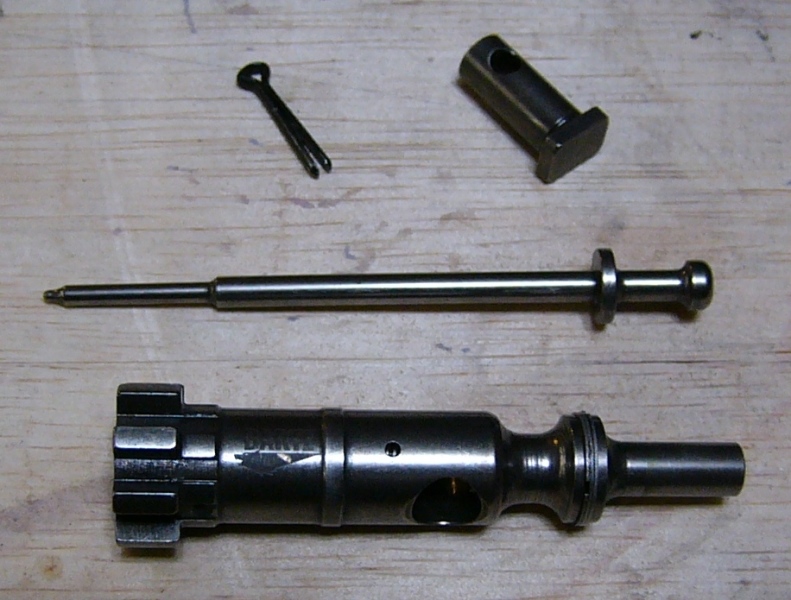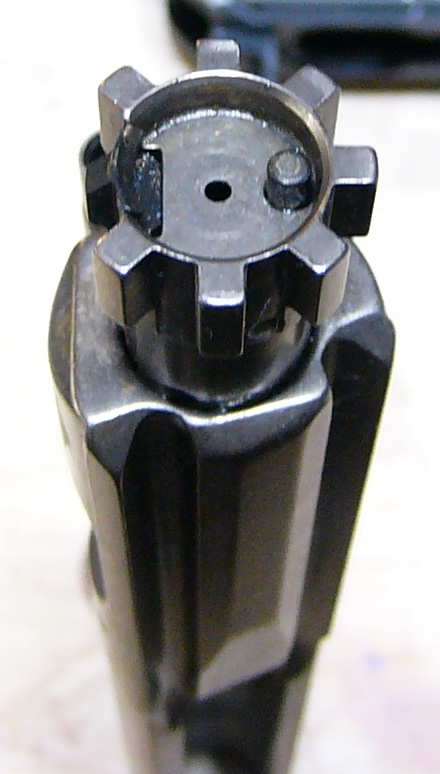 Everything in the pictures are NiB coated except the extractor and the cotter pin. And the barrel extension doesn't cut your finger when you stick it in there to wipe it out. Again like it got a "melt-down" process. It's the way I do all my barrel extensions for a smother engagement without giving up any tolerances on the locking surfaces. Quite the contrary with this upper. The bolt fits the right kind of tight in the barrel extension when rotated by hand into the locked.position. There's a lot of that kind of workmanship throughout the rifle, like it was designed and made by one of us after having owned an original Bushmaster made upper. Not that aerospace precision is needed for ARs to run like clocks, but it gives you the warm fuzzies. Balance is fine by me, but I'm not a weight Nazi. Witness the DPMS SS lower that I use and the shake weights inside the A1 stock. Of course overweight is in the eye of the beholder and his physician.
I'm definitely no string bean.
Here are a couple of images of the complete upper wearing my load testing scope (Nikon Monarch 6-24x50). It obscures the picatinny rail portion of the receiver, but if you've seen one picatinny rail, you've seen them all. Also the muzzle crown and extended Charging Handle, which scope users will appreciate.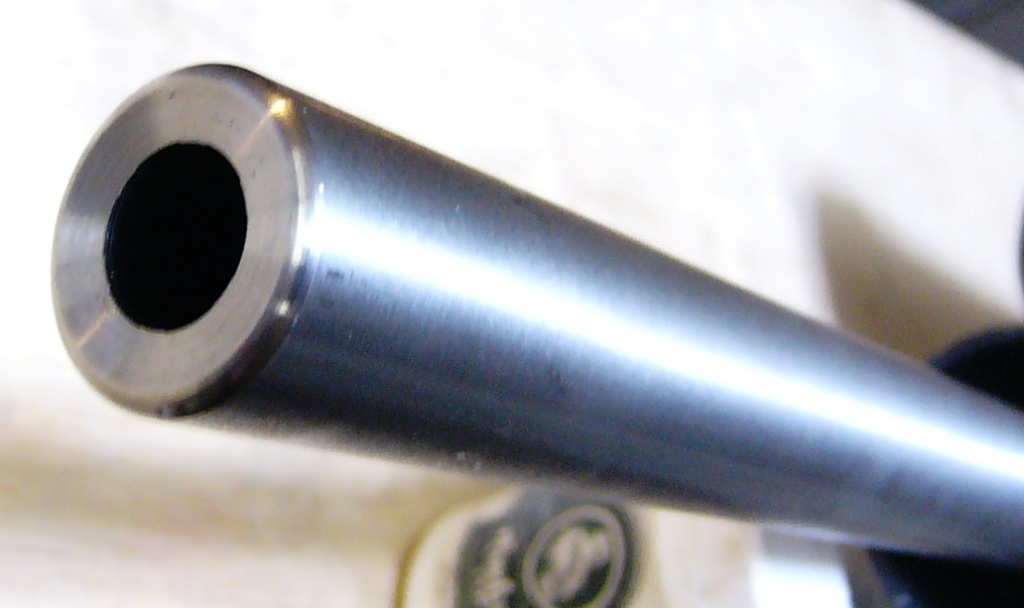 For the first outing / break-in, I loaded the following:
250gr FTX (yellow tips)
225gr FTX
240gr XTP Mag
200gr FTX
230gr FMJ
200 COP gaping hollow points, already loaded, left over from a previous experiment, charge weight unknown.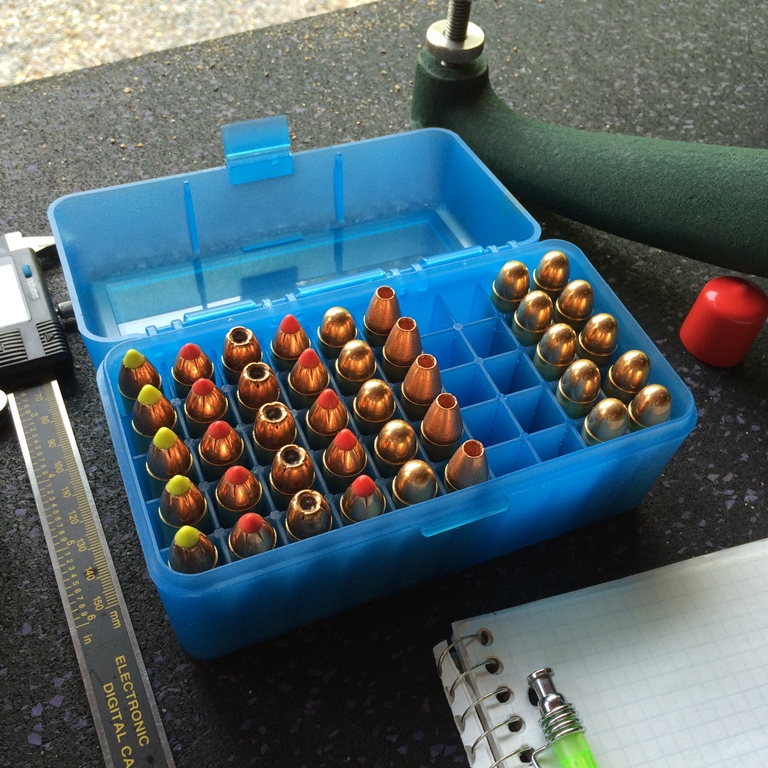 So off to the range…
Here's my setup and a view of the upper mounted on my DPMS SS lower. The digital camo in neat looking. Several other members at the range came over and eyeballed it. I used the black magazine that came with it but there are digital camo ones also, I understand. The ammunition can't tell the difference.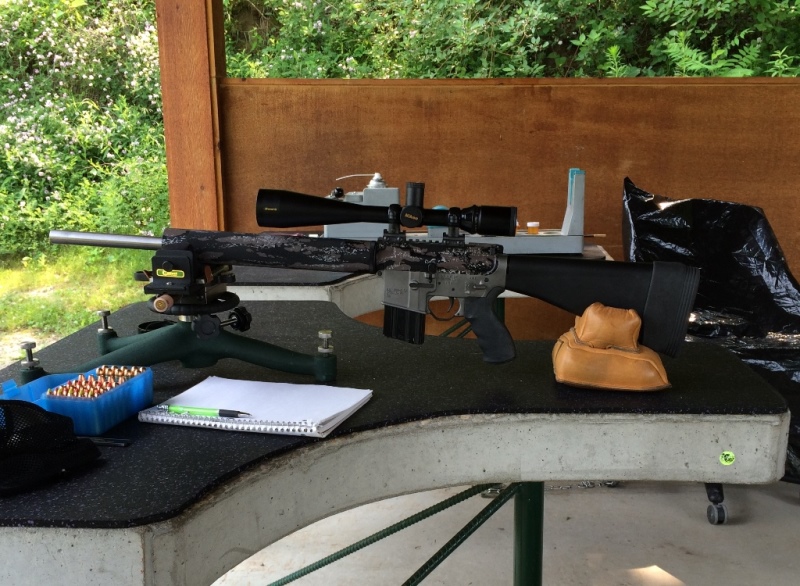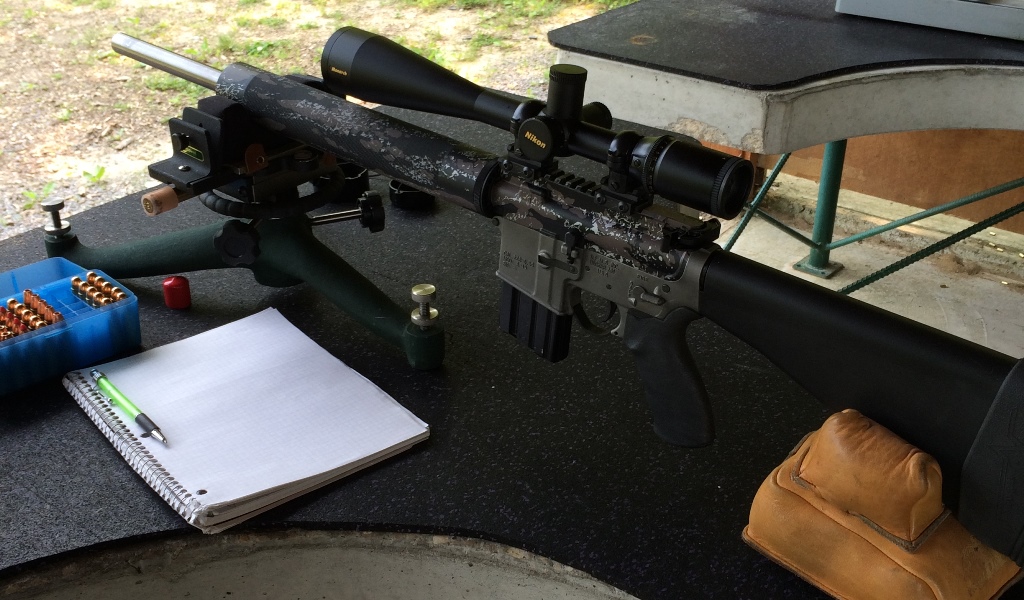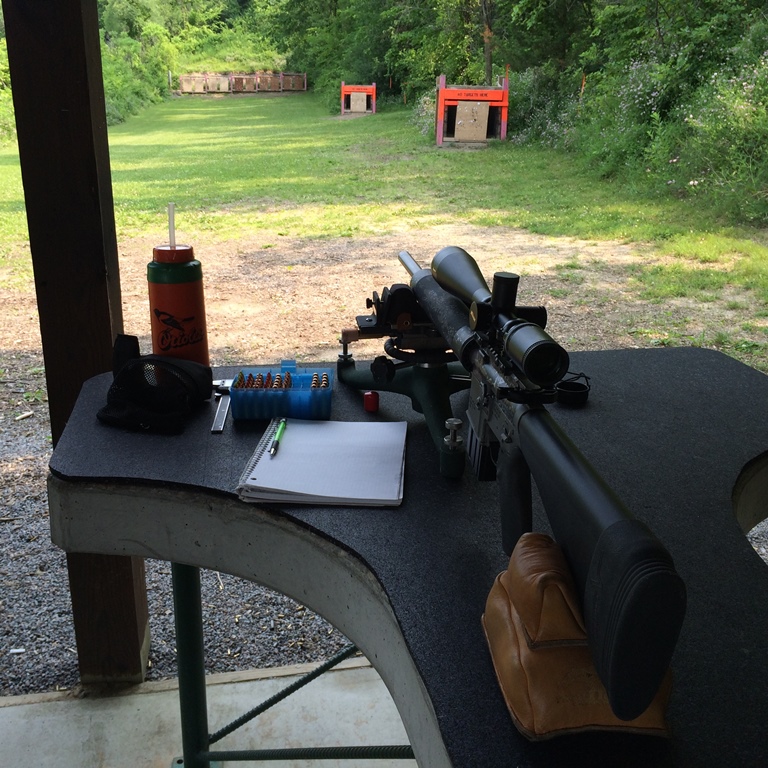 OK, so the predictable good loads shot well and bullets I've had trouble with in the past shot not so well at 100 yds. The same way they shot in my regular upper. I brushed and patched with Kroil after each shot of the first set which happened to be the 250 FTX. After each cleaning, I shot one junk brass, 230gr FMJ to burn off any remaining solvent after two dry patches. With each load change, I also cleaned, patched and fouled. A lot of up and down at the shooting table. Weather started out with calm wind and about 70 degrees. By the time I finished, it was still calm and 80 degrees. Stifling humidity.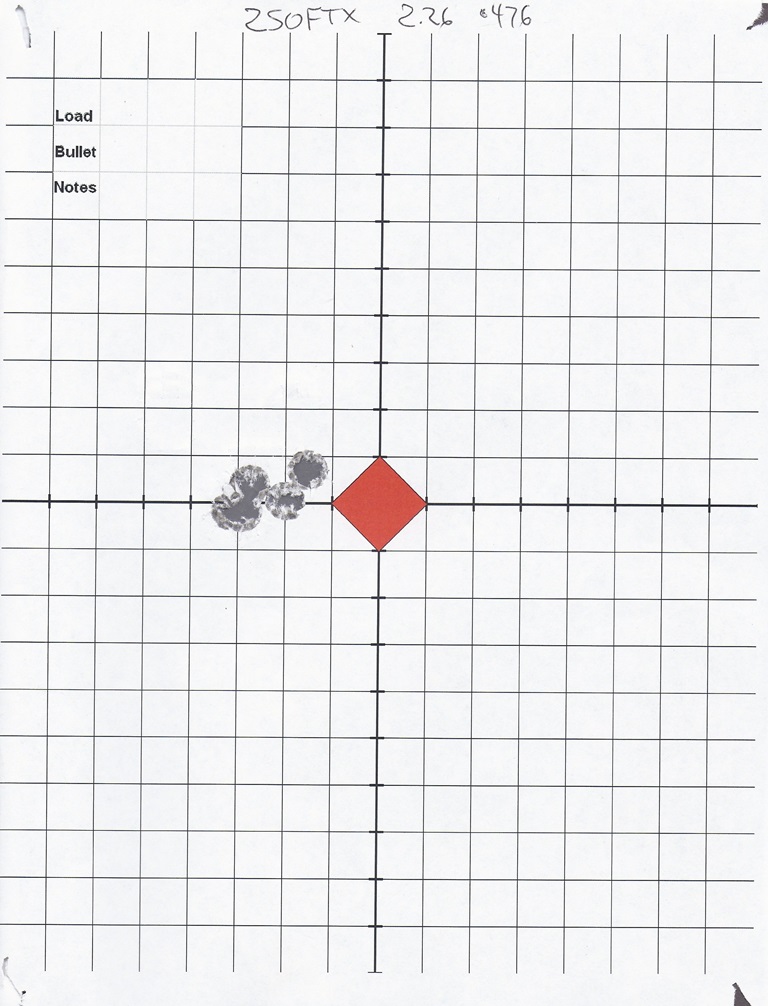 Given the foulers patterned as opposed to grouped, as is typical of them, I didn't know what to expect.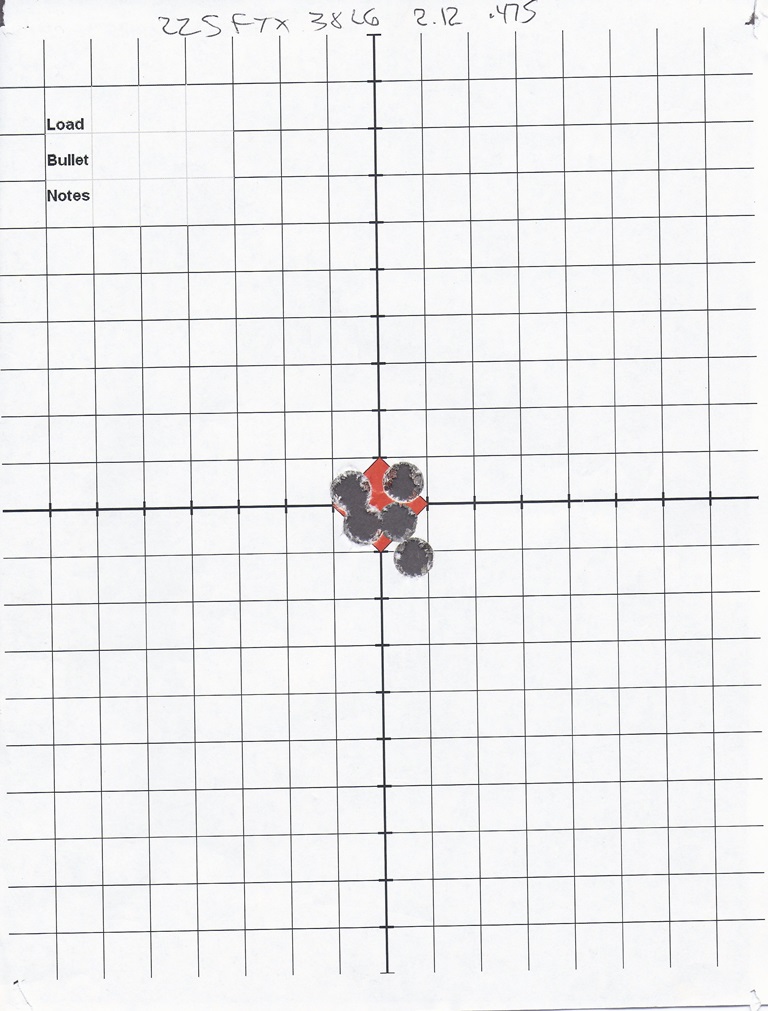 This is my pet load and I had dialed in the scope.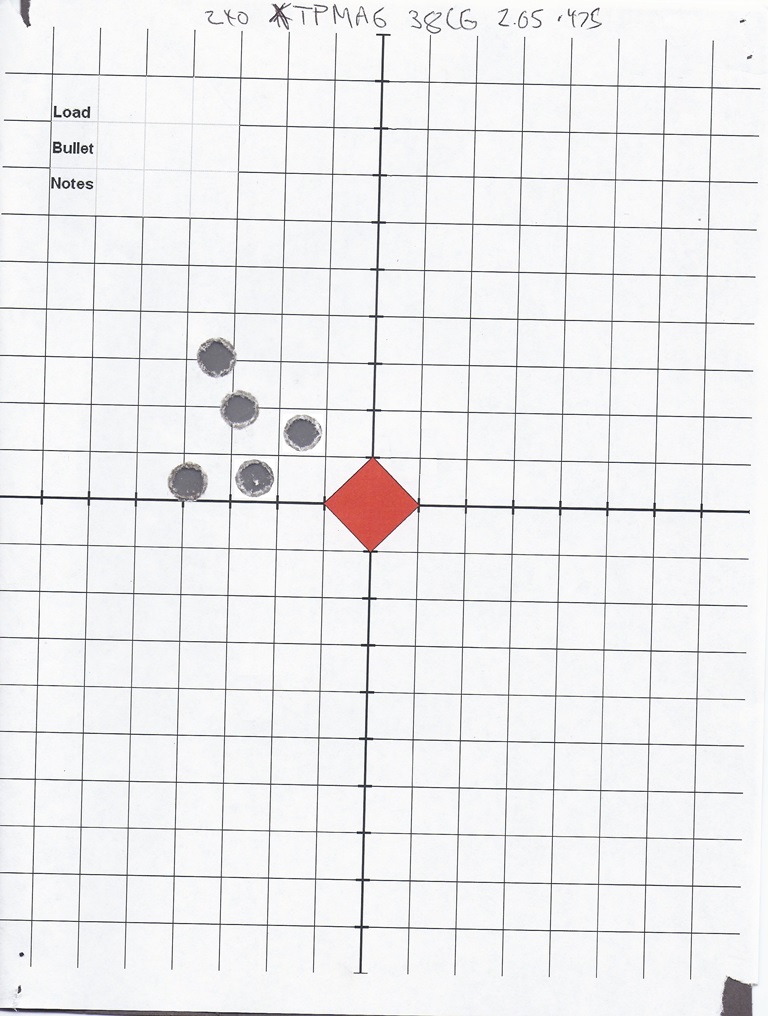 No surprise here. Never had spectacular luck with them over 38gr of Lil Gun. Still only slightly over 1 MOA.
This weight is my whitetail deer hunting load, albeit using Barnes XPB bullets. Not too shabby for a new barrel!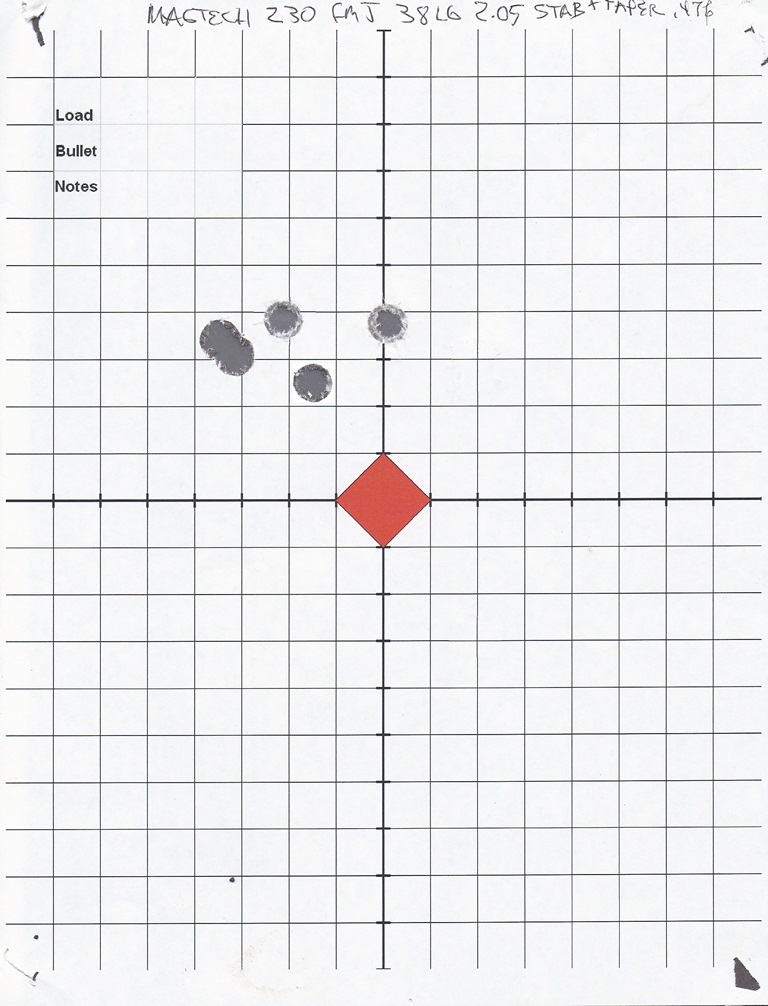 There a reason behind the lackluster group. I used a stab crimp for these as that works well with them, however I was not aggressive enough with the depth of the stab and the average velocity of only 1900 fps bore witness to insufficient neck tension. Heck, the junk brass foulers which employed a .476 taper crimp shot better with an average velocity of 2350fps. I will not make that mistake when I do more testing with this bullet. Get this! Even at such low velocity and only a 230gr bullet, the Mid-Length gas system kicked every one out and chambered the next! We may have a good compromise between the stock Carbine Length and aftermarket Rifle Length gas systems. On the other end of the spectrum, the leftover 200 COP loads were smoking down the range and not one single ejector mark or head swipe from any of them, nor the other 35 rounds. Did I mention, no FTFs nor FTEs out of any rounds. Not a single hitch in my giddy-up.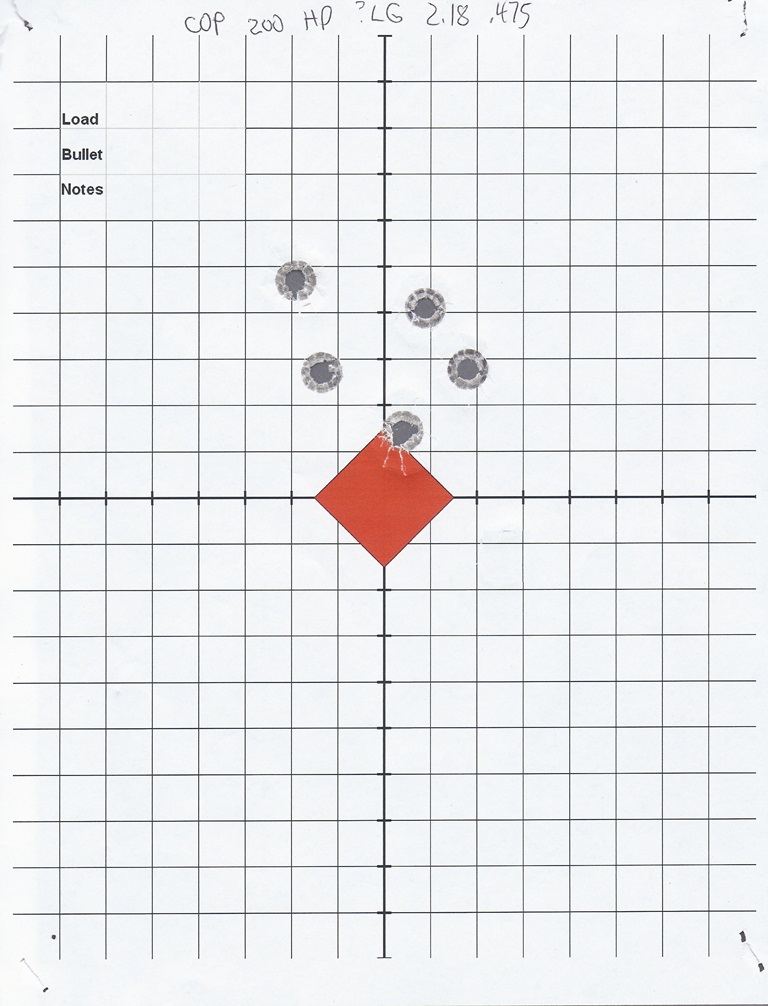 If you recall my work with these last year, IMHO, they are not a good match for this caliber. Probably a wicked 45 ACP bullet though. I'll give them another at bat soon since I have plenty of them thanks to my
Secret Santa
.
Here's the vital statistics for all the loads I tried on this first outing.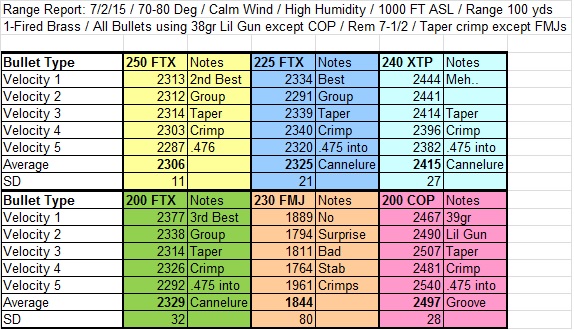 I did a quick bore patch with Kroil when I was done but waited until I got home to give everything a good scrubbing. Much to my delight the carbon deposits so common to the rear of the bolt and inside the BCA mostly wiped off with a paper towel moistened with a little Kroil. A few small spots required my specialized thumbnail tool to scratch off. I forgot to mention that all the BCA related pictures were taken after shooting the 40 rounds and getting back home. They were wiped off with a paper towel.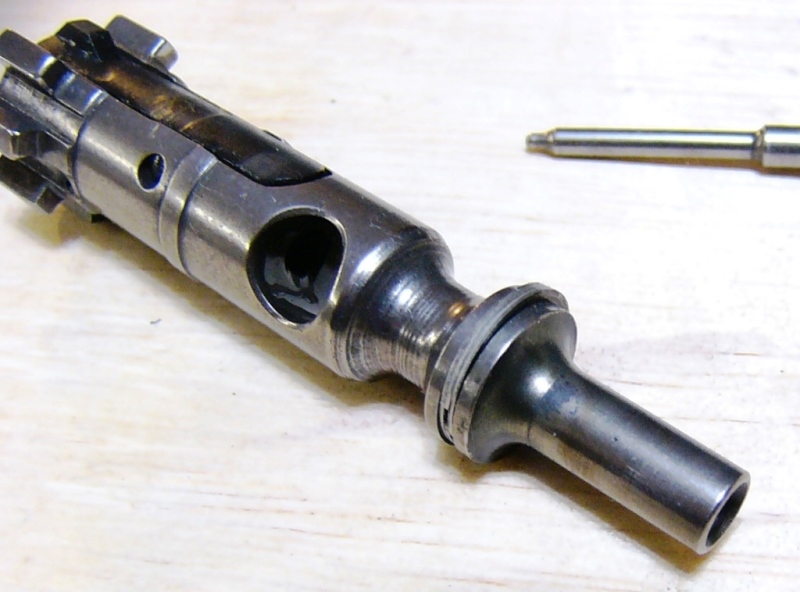 A pleasant departure from my phosphated Mil-Spec ones. Even after I had polished them to a mirror finish! I'm totally onboard with this NiB coating process! :thumbsup:
The Bottom Line:
While I have tried two other aftermarket, Rifle Length gas system barrels, they were on my own upper, so I can't comment on the overall quality of the other brand's complete uppers that you can buy. I can say that the Bartz Manufacturing 450 Bushmaster upper is built using top shelf components with a definite eye on quality of workmanship and it showed in every aspect of operation. That's not saying there isn't room for improvement, but that is more about feature differences from what I'm used to. I really like a forward assist, especially when I just climbed into my stand and hoisted up my unloaded weapon, only to be able to see better around me and there stands a nice buck. I like being able to ease a round quietly into the chamber and then thumb the FA for assurance. Not a deal breaker but certainly an option that should be available. I know a slick side receiver is more rigid, but it's a trade I'm willing to accept. Second, I've had protracted range sessions in the past where it was not unusual to run through 100 rounds in one setting. With my slip-on Limbsaver recoil pad, shake weight recoil impulse stretching system and my brake, I could have easily shot another 100 and been no worse for wear and tear. I understand trying to design with the best chances of having an AR style rifle that can be sold in as many liberal states as possible. That being said, I dearly missed my Ross Schuler Brake. After only 40 rounds, I felt it. Mainly in my cheek, but also to a lesser extent, in my shoulder after hunching down on it in a benchrest posture. I meant to shoot it standing, offhand, but ran out of time. I hear a threaded barrel in their 16 inch model may be in the offing, but I'd like to see that available as an option in the 20" as well. For someone as jaded as me to only be able to come up with two negatives, that's saying something. I look forward to running many bullet specific load workups in the near future to see not only the sweet spots, but how this platform handles the
meaty, beafy, big and bouncy
charges. I've seen how the Carbine Length system handled the heavy hitters and to a lesser extent, the Rifle Length system, but the Mid-Length may be the middle ground we've been looking for.
Stay Tuned…
Hoot